Society for the Advancement of Judaism
"A tradition can live only so long as it continues to change."
—Rabbi Mordecai M. Kaplan
SAJ Annual Hanukkah Party!
Saturday, December 12 5:30 PM
Celebrate with your whole community as we kindle the lights for the seventh night.
We begin with Havdalah, singing and the famous Latke/Hamentshen debate in the Sanctuary. This is followed by latkes, and potluck dinner in the Social Hall. Adults of all ages are then invited for a campfire-style sing-along, while the kids enjoy drama, music and crafts on the 3rd and 4th floors.
Honoring Two Jewish Human Rights Heroes for National Human Rights Shabbat: Ruth Messinger and Rabbi Steve Gutow
Saturday, December 12, 2015
10:00 AM - Services
Arrive by 11:15 AM to hear Ruth Messinger and Rabbi Gutow speak
Join us in honoring two Jewish communal leaders who will be leaving the leadership of major Jewish organizations this year. Rabbi Steve Gutow, an advocate for social justice and civility and a leader in interfaith relations, is leaving his post as head of the Jewish Council for Public Affairs at the end of December. Ruth Messinger, a tireless activist and social change visionary, will be stepping down as head of American Jewish World Service in July 2016 and becoming that organization's Global Ambassador. On Saturday, December 12, we will have the opportunity to honor these two pioneers who also are members of the SAJ and to hear their thoughts on the most pressing issues that need to be addressed today and their reflections on the future of Jewish communal life. SAJ will host a special kiddush lunch in their honor following services.
We invite members and friends to the SAJ as we celebrate Ruth and Rabbi Gutow. This Shabbat is part of National Human Rights Shabbat, organized by T'ruah: The Rabbinic Call for Human Rights, www.truah.org.
Shabbat Music Service
SAJ's resident four-piece band joins for the monthly Music Service on Saturday, December 19 at 10:00AM. The service is led by Rabbi Lauren Grabelle Herrmann and Cantor Lisa Abrisser and accompanied by Naomi Less on guitar/vocals, Brian Gelfand on keyboard, Glenn Grossman on percussion and David Meer on Double Bass. All are welcome for this special service.
"The Jewish People & The Covenant: Explored & Reconstructed" Taught by Rabbi Lauren Grabelle Herrmann
The notion of covenant is a central idea in traditional Jewish thought and a foundational idea of the Torah. We invoke covenant today primarily when we welcome baby boys into the covenant through brit milah and celebrate the Jewish people's covenant with God on Shavuot.
But what exactly do we mean when we talk about covenant today? How have our ancestors thought about covenant? What are the theologies underpinning these ideas? How has the idea evolved over time and in reaction to the circumstances of our history? From a Reconstructionist vantage point, what does covenant mean if we do not necessarily subscribe to a belief in a supernatural God?
In this class, we will look at biblical and rabbinic texts to understand what our ancestors may have meant when describing the Jewish people's relationship with God as a "covenant." We will examine ideas from modern and contemporary theologians who wrestle with and re-work this concept. Throughout, we will consider what covenant might mean to us personally and as a people today. This class will be highly participatory and text/article based, with some materials given as reading between classes.
To discuss further or if you would like to talk about whether this class is right for you, please contact Rabbi Lauren at rabbilauren@thesaj.org or 212-724-2721
Dates and registration are available by clicking here.
The SAJ Welcomes Rabbi Lauren Grabelle Herrmann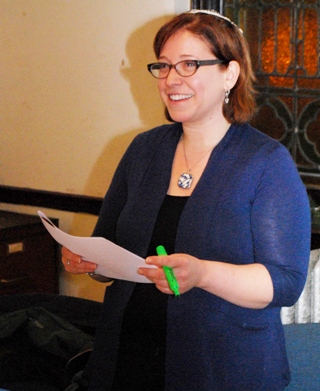 Rabbi Lauren began her term on July 1, 2015.
Lauren Grabelle Herrmann graduated from The Reconstructionist Rabbinical College in June 2006. After serving in rabbinic internships in Indiana, New Jersey, New York City, and Boston, Rabbi Lauren founded Kol Tzedek Synagogue in West Philadelphia in 2004, along with a handful of community members. Utilizing her training in community organizing through the Jewish Organizing Initiative & Network (JOIN), Rabbi Lauren built the community through individual meetings and leadership development. Today, Kol Tzedek is a dynamic, diverse, and growing community, with over 140 household units (with members ranging from ages 25 to 95) and with over 60 children in its religious school.
Rabbi Lauren is passionately committed to building meaningful, joyful spiritual community. She strives to help all voices be heard and empower people to bring their voice to the Jewish conversation. Rabbi Lauren's belief in the power of community and the importance of outreach inspired her to become the founding co-chair of LimmudPhilly (2007), a festival of Jewish learning for the whole Philadelphia Jewish community and a Rabbinic Fellow with CLAL's Rabbis Without Borders Program (2014). She has also participated in rabbinic training with The Institute for Jewish Spirituality. Rabbi Lauren's passions for social justice make her an activist for Philadelphia schools, racial and economic justice, lgbtq rights, and climate change. She is currently the co-chair of the Clergy Caucus of POWER, Philadelphians Organized to Witness, Empower, and Rebuild, and she recently was honored by POWER with a Carol Wright Leadership Award.
Rabbi Lauren is deeply committed to the Reconstructionist movement. While at RRC, Rabbi Lauren was the President of the Reconstructionist Student Association, the student liaison to the Reconstructionist Rabbinical College Board of Governors, and a recipient of the Lillian Fern Award for Service to the Community and the Rabbi Kenneth and Aviva Berger Memorial Prize in Practical Rabbinics. She has remained an active member of the Reconstructionist Rabbinical Association since her graduation from the college.
She is married to Jonathan and has two children, Aviel, age 7 and Nadiv, age 3.
Tue, 1 December 2015 19 Kislev 5776