Society for the Advancement of Judaism
"A tradition can live only so long as it continues to change."
—Rabbi Mordecai M. Kaplan
October 17 - A Day of Firsts
Join us on Saturday, October 17 for our first Music Service of the year (10:00AM); the first day of JJP at SAJ/Makom (10:30AM), a Family Service for families with children in 3rd grade or younger (11:30AM), and PJ Library (11:15AM). We follow all of this with a special kiddush and shabbat singingn in honor of Rabbi Lauren Grabelle's year of installation events.
The SAJ Welcomes Rabbi Lauren Grabelle Herrmann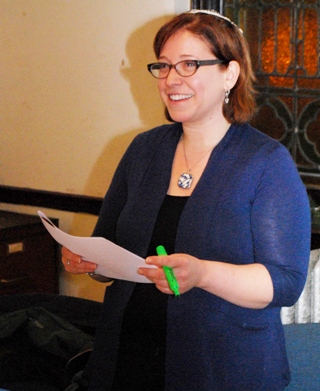 Rabbi Lauren began her term on July 1, 2015.
Lauren Grabelle Herrmann graduated from The Reconstructionist Rabbinical College in June 2006. After serving in rabbinic internships in Indiana, New Jersey, New York City, and Boston, Rabbi Lauren founded Kol Tzedek Synagogue in West Philadelphia in 2004, along with a handful of community members. Utilizing her training in community organizing through the Jewish Organizing Initiative & Network (JOIN), Rabbi Lauren built the community through individual meetings and leadership development. Today, Kol Tzedek is a dynamic, diverse, and growing community, with over 140 household units (with members ranging from ages 25 to 95) and with over 60 children in its religious school.
Rabbi Lauren is passionately committed to building meaningful, joyful spiritual community. She strives to help all voices be heard and empower people to bring their voice to the Jewish conversation. Rabbi Lauren's belief in the power of community and the importance of outreach inspired her to become the founding co-chair of LimmudPhilly (2007), a festival of Jewish learning for the whole Philadelphia Jewish community and a Rabbinic Fellow with CLAL's Rabbis Without Borders Program (2014). She has also participated in rabbinic training with The Institute for Jewish Spirituality. Rabbi Lauren's passions for social justice make her an activist for Philadelphia schools, racial and economic justice, lgbtq rights, and climate change. She is currently the co-chair of the Clergy Caucus of POWER, Philadelphians Organized to Witness, Empower, and Rebuild, and she recently was honored by POWER with a Carol Wright Leadership Award.
Rabbi Lauren is deeply committed to the Reconstructionist movement. While at RRC, Rabbi Lauren was the President of the Reconstructionist Student Association, the student liaison to the Reconstructionist Rabbinical College Board of Governors, and a recipient of the Lillian Fern Award for Service to the Community and the Rabbi Kenneth and Aviva Berger Memorial Prize in Practical Rabbinics. She has remained an active member of the Reconstructionist Rabbinical Association since her graduation from the college.
She is married to Jonathan and has two children, Aviel, age 7 and Nadiv, age 3.
Fri, 9 October 2015 26 Tishrei 5776